CEREC Technology
Traditionally people would come into their appointment have impressions taken and then have to return about two weeks or so later depending on the amount of time it would take for a laboratory to make the crown.
However, times have changed…
Most procedures can be done in one visit - less costly and less time-consuming
Less painful injections due to single-visit
No need to take messy impressions
No need to have a temporary restoration for in-between visits
Ability to save as much natural tooth structure as possible
Longer lasting restorations - may last over 10 years
Restores teeth to natural beauty, function, and strength
Metal-free restorations
What is CEREC?
Chairside Economical Restorations of Esthetic Ceramic or CEREC for short is a new state-of-the-art method of reconstructing tooth restorations. CEREC® uses computer-assisted design (CAD) and computer-aided manufacturing (CAM) to offer single-day restorations for patients. This new technology has revolutionized ceramic restorations such as crowns and veneers for patients so that there is no longer a wait between preparing the restoration and finally receiving the finished product. With CEREC, the technology is used while you are sitting in the dental chair, which is both economical for you and your dentist. The restorations created are metal-free and tooth-colored to restore your tooth to its natural beauty, strength, and function. With CEREC's CAD-CAM technology, these ceramic restorations can all be done in one single visit to the dentist.
Digital X-Rays
With the progression in today's technology, our team has to continuously strive to stay up-to-date with the latest advancements available. We offer one of the latest technological advances in dentistry, digital radiography (X-rays) by Schick. A wireless sensor is placed in the mouth, and a computer generates an image in 30 seconds as opposed to the general 4-6 minute wait time for images taken on dental film. These X-rays can also be enhanced on the computer and enlarged. We also have our new 3D-CT scan which enables us to see more, and helps with guided Implant Dentistry!
Not only are they friendly to the environment, but they are also much safer than traditional X-rays. Digital radiographs reduce radiation exposure by 90 percent!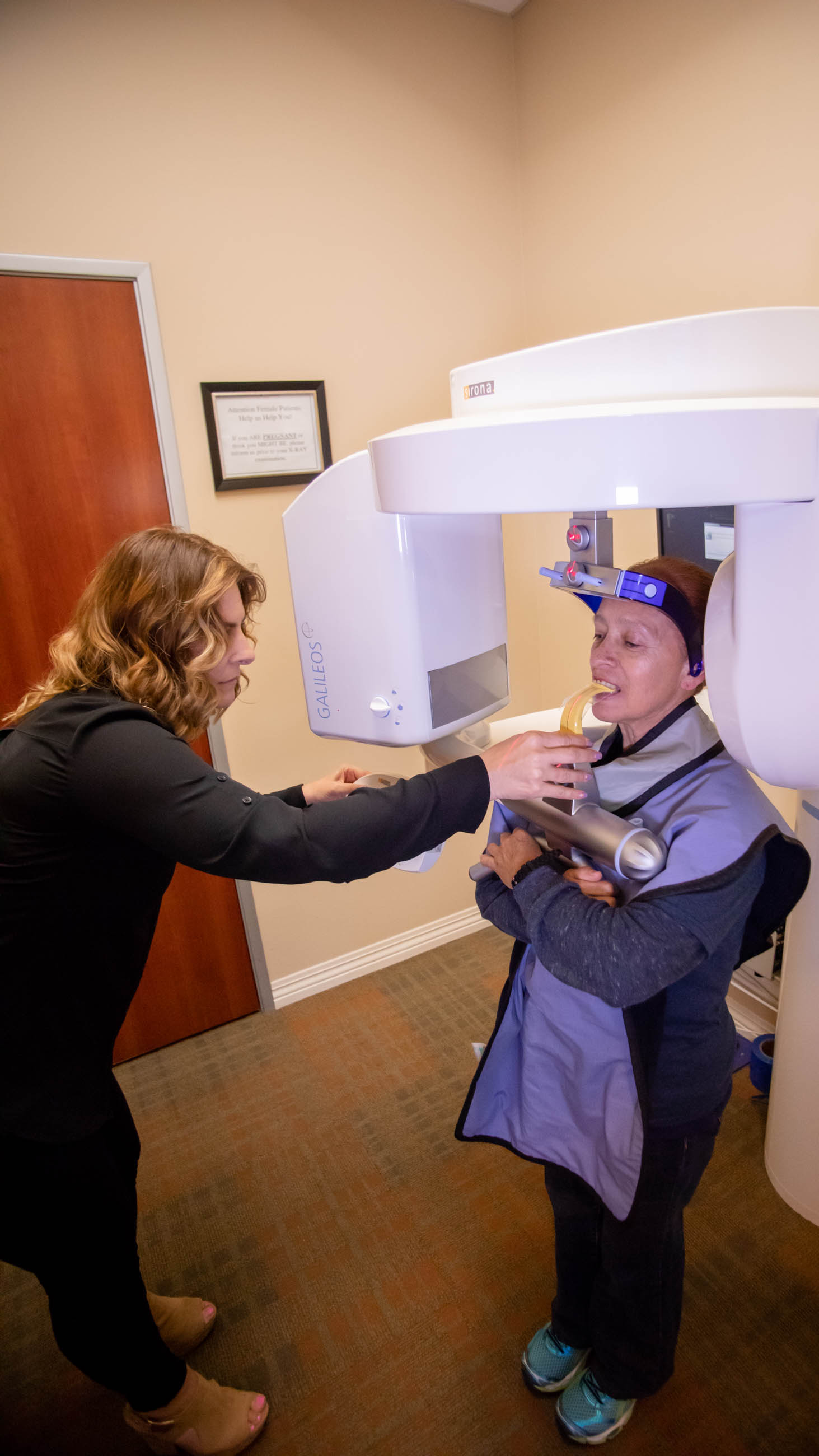 3D Cone Beam X-Ray
This new system has four panoramic programs with many customization options. The optional cephalometric arm meets all the requirements of modern orthodontics. The retrofittable 3D module allows our doctors more reliability with difficult diagnoses and combined with CEREC, opens up new possibilities in implantology.
Every XG unit delivers the best image quality at the lowest dose of radiation. Thanks to sophisticated technology, ORTHOPHOS XG units provide maximum image information. Special programs reduce the radiation dose for our patients and provide the right x-ray image for every diagnostic task. It takes image fast and is an important tool in helping diagnose. What makes this machine even more helpful is that the system is associated with our entire computer network; therefore there is no need to wait. In the past and even today, some offices still use the traditional method of having to develop an image and having to wait for it to be processed and then the Doctor can see and diagnose from the prepared image. With our office the image is instantly taken, the 3-point patient stabilization prevents motion blurring, high image sharpness, illustrating in great detail of the human anatomy, and it provides radiation management. The 3-point patient stabilization assures the correct position a patient should be in to prevent errors and repeated imaging. The image is instantly uploaded to any computer; due to our shared network. Fast, safe, and reliable.
The matching of CEREC – chairside CAD/CAM technology and CBCT 3D X-ray enables our doctors to offer highly precise implant planning, and surgical guide to production and final prosthetic manufacturing – in-house and in one visit.
Waterlase
In order to bring you a more pleasant dental experience, our doctors bring the use of Laser Dentistry for both hard and soft tissue procedures.
Benefits of Waterlase®
There are a number of benefits in using Waterlase®, including:
Increased patient comfort
Minimizes damage to surrounding healthy tissues
More precision and accuracy
Reduces the amount of required dental visits
Decreases the possibility of bleeding and swelling
Increases the durability of fillings
Extremely versatile; can be used for soft and hard tissue procedures
Through a combination of water and laser energy (HydroPhotonics™), Waterlase® has revolutionized laser dentistry with more accuracy and precision and with your comfort in mind. With the use of Waterlase®, our doctors use fewer shots and less anesthesia, which helps reduce patient anxiety and provides a more relaxing and comfortable dental experience.
Why Waterlase?
With Waterlase® Dentistry, we can remove decay, perform a root canal, treat canker sores, herpetic and aphthous ulcers, or even create the smile you've always wanted. Tooth, bone, and gum procedures have never been easier. Procedures that once took several appointments can now be finished in as little as one visit! Laser Dentistry can cut into the tissue without the discomfort that heat, pressure, and vibration normally causes. Thus, the patient needs less anesthesia or fewer shots. It's so gentle that the procedures can be completed with little or no bleeding and less swelling.
Ask us how comfortable your next procedure can be with the new Waterlase® Dentistry system.
Porcelain Bridges
We take pride in staying on the cutting-edge of the latest advancements in dentistry and are excited to utilize one of the most revolutionary dental devices available, Isolite. With Isolite, our team is able to reduce treatment times by up to 50%, yet still maintain a high standard of dental care.
Isolite combines three devices into one; delivering constant illumination, aspiration, and retraction all in one. This device allows us to perform treatment faster; by keeping your mouth brighter and drier throughout the procedure.
Electric Handpieces
In an effort to provide our patients with the best possible dental care in a comfortable, relaxing, and safe environment, we utilize modern electric handpieces to assist us in various routine dental procedures.
Electric handpieces have enabled our doctors to improve the overall dental experience for the patient. Some of the benefits of the electric handpiece include:
Decreases noise level normally associated with dental equipment
Reduces dental appointments
Maintains a clean, healthy environment for patient safety
Call us (760) 529-5339 or schedule an online appointment with Dr. Vasquez for a consultation at our office in Oceanside, CA.